In Arsène Lupin's footsteps: Watch Netflix's Lupin for a unique taste of la vie française
Netflix's 'Lupin' takes us on a tour through France, showcasing Paris' hotspots
For the past year and a half, travelling has been restricted to our imagination – and to our screens. Luckily for us, Netflix's Lupin, whose second season has just dropped, offers a little slice of France. Characterized by smart plotting and stylish locations, Lupin is the perfect show to watch if you want to understand more about the French way of life.
France's answer to Sherlock Holmes, Arsène Lupin, gentleman-thief, was created by Maurice LeBlanc in 1905. The Netflix show, starring the inimitable Omar Sy, brings the story up to date, as the rich and powerful elites of modern Paris become the targets for a series of daring thefts by Assane Diop, a superfan of the Lupin series who copies many of his tricks.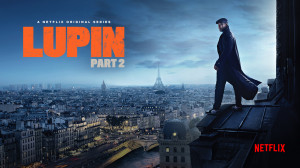 Location, location, location
When we think of Paris, we think of the Louvre. What we don't think of, however, is the Louvre as a location for the almost impossible theft of a precious diamond necklace belonging to a queen, as seen in Episode 1 of the show. The Louvre doesn't open its doors to just any director and the team behind Lupin are truly some of the privileged few.
The show as a whole is a treat for lovers of Paris. The backdrop of every scene is an exhibition of France's beautiful capital. We move from the Jardin du Luxembourg to the Pont des Arts, and everywhere in between. If you haven't been to Paris, watching the show makes you want to visit tout de suite. If you have been, you will want to go straight back!
And it isn't just Paris. Maurice LeBlanc grew up in Normandy and set several of the books in the Lupin series there. The Netflix show pays homage to this and the first season ends with a dramatic showdown in the town of Étretat, at a festival celebrating the gentleman-thief. Unfortunately, this festival doesn't exist in real life, but we wouldn't be surprised if fans of the books and the show make it a reality soon.
With subtitles or without?
Wherever you are in your language-learning journey, watching TV shows like Lupin is a fantastic way to study. First, watch with English subtitles and let your ears acclimatize to the sound of one of the world's most beautiful languages. Second, watch with French subtitles and build your confidence – you can understand! Finally, watch without subtitles (incroyable!) and enjoy your fluency. You might just pick up on some new slang too.
If you enjoy Lupin, there are a host of other shows and movies on Netflix for francophiles. Adored in France, Dix Pour Cent (called Call My Agent! in English) is one for lovers of French cinema. More controversial but fun, Emily in Paris offers an American view of French culture. Who knew that watching Netflix was technically learning?
Travel won't be restricted forever, so alongside your forays into French TV, why not book some lessons with us? You'll be following Omar Sy around Paris before you know it.