Because we are now amongst the
top schools
in term of French language teaching and translation, we have decided we should expend to
European languages
and offer you the chance to tackle other beautiful languages.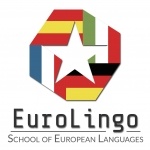 Since the start of 2015, some of you might have heard about EuroLingo, a French Toast's initiative that focuses on European languages. Starting of with German and Spanish courses, we are planning to add other languages as EuroLingo's popularity grows : Italian, Portuguese, Dutch…
Because Europe is unique in terms of culture, food, musique, landscape and languages, and because we are European, we have decided to give you the opportunity to learn these languages.
I enjoyed my German language teacher, she's friendly and helpful and makes the lessons fun and beneficial. She's very dedicated and spends extra time to clear all doubts. Thanks to her patience and dedication I am able to express myself. Definitely one of the best teachers I've had!
Chyszyrr
Adult German Course
Spread the word !