How to Learn a Foreign Language
Learning a new language is a huge accomplishment, but it's easier said than done. Mastering a new language takes time, effort, and plenty of resources. However, understanding different cultures and being able to communicate with other people effectively is a huge accomplishment that shouldn't go unnoticed. Wanting to learn a new language is a healthy goal, and though it may require a steep learning curve, it's always worth it!
We've outlined five of our top tips for learning a new language.
Use your learning style to your advantage
Not everyone has the same learning style, and that's okay! Some of us need to read to fully comprehend new information, whereas others need to listen to new information to understand it. Employing your ideal learning style as you learn a new language is one of the best ways to simplify the process.
At the end of the day, tailor your learning experience to you. If you need to read books in a foreign language frequently, then do that! There are no strict rules when learning a new language, so be patient with yourself.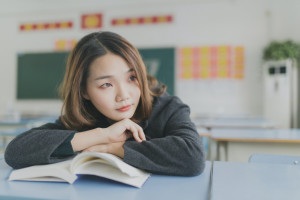 Do not constantly translate
As much as we want to believe that every language can easily be translated word-for-word, it can't be. The best way to fully immerse yourself in a new language is to understand and comprehend that language (in that language). For example, if you hear a sentence in French and automatically translate it to English, then you're not fully immersing yourself in the French language.
Try your best to appreciate the new, foreign language for what it is. Learn the idioms and figures of speech in the new language. After all, constantly translating takes a significant amount of time and energy that you could otherwise spend comprehending.
Study with audio
Regardless of your learning style, you want to add in audio learning to a certain degree. Understanding the speed, style, and accent of a new language is one of the critical factors in picking it up. When you're reading subtitles or a book, try adding audio overtop. You'll begin to understand the two in conjunction better, and that will make you more successful with the new language. Of course, the best is to have a French native speaker as a teacher or a sparring-partner.
Watch foreign movies
Foreign movies are an excellent way to learn a new language! Because they come with film, you can often pick up the context of different sentences and words. This will make your journey of learning a new language more fun. Do you want a real challenge? Add in the subtitles! You'll be learning the new language in no time. With Arsene Lupin or Emily in Paris on Netflix, you have no excuse!
Be patient
Learning a new language is a challenging feat, so be patient with yourself. Putting unneeded pressure on yourself to learn a language quickly will be counterproductive. Take your time and give yourself grace and understanding. It's normal to have mishaps or misunderstand things. After all, you didn't learn your native language in one day, so you won't learn your secondary language in one day either.