Make the most out of working from home
The COVID-19 pandemic has led to many of us spending a lot of time at home. While working from can be difficult it does come with some benefits. Yes, you get to spend all day in your pajamas but the lack of the daily commute offers you more time to take up a new hobby or activity.
So now instead of being stuck in traffic you can be creating a piece of art or do an online yoga class to help with your flexibility. Here are some other great ideas to make the most out of working from home.
Learn a new language
What better way to use your extra time at home than by learning a foreign language?
There are many brilliant online language resources available. Like French Toast where you can begin your journey to learn the world's romantic language, French. The site offers native-speaking teachers to guide you through lessons at your own pace.
Learning a new language could open up a world of opportunities for you and it's fun!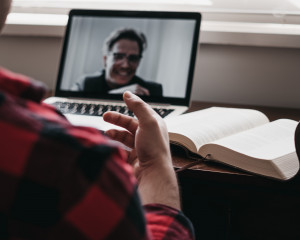 Pick up an instrument
Music makes the world go round. Why not pick up a musical instrument and start making music? Music helps keep you calm, it's been proven to lower heart rate and blood pressure which is very helpful in these uncertain times.
Learning a musical instrument actively engages and stimulates your brain, making you feel happy and occupied. Plus it's cool, right? You may even start a band and become famous… anything is possible.
Study a new business course
Another great way to spend your time while you are working at home is to study. Completing a business course could lead you to a new job or promotion opportunity.
It could be a short online course or a postgraduate degree from a university, whatever suits your needs. LinkedIn has some great resources available across many different business categories.
Write the next great novel
One way to unleash your inner creativity is by writing a book. It doesn't have to be a long novel, it could be a short book of poems, a blog about gardening or a journal of your life.
There are a million things you can write about, the important thing is to put pen to paper or fingertips to keyboard or touchscreen… you get the idea. By writing something you will gain a sense of accomplishment and fulfillment (hopefully not writer's block.)
Take up photography
Taking photos can help you see the world in a new way. That comes in very handy when you're tired of looking at the same four walls all day.
You don't need to buy expensive equipment as most smartphones now have quality cameras. You can also download photo editing software on your phone or laptop. It's a great way to pass the time and create long-lasting memories.
Another hobby that could provide you with a secondary income or lead to a new full-time gig?